Jonathan Reckford, the Chief Executive Officer , Habitat for Humanity International launched the  Urban Low-cost House Model at Kyasira Home of Hope, Katabi Town Council Wakiso District during his recent visit to the country.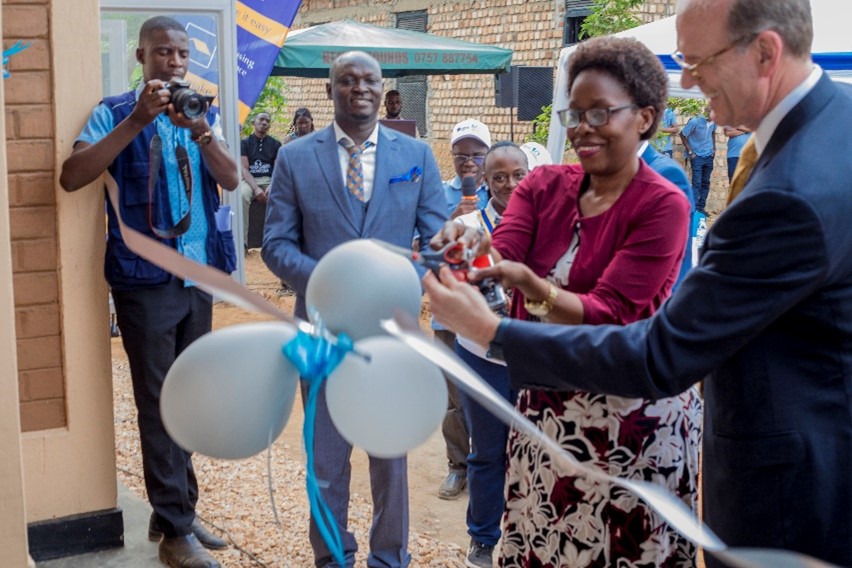 The launch was witnessed by the Minister of Lands, Housing and Urban Development, Hon. Judith Nabakooba.
Reckford noted, "Being here today and launching this particular house is really a blessing because it is coming when the Home is in dire need for housing, and also the house amplifies the need for climate-smart housing innovations".
The minister on her part appreciated the efforts of Habitat for Humanity Uganda and the collaboration of partners in reaching out to the Children's Home with the Model House.
The House Model has been developed and constructed by Habitat for Humanity Uganda (HFHU) in partnership with the Terwilliger Centre of Innovation in Shelter (TCIS), Technology for Tomorrow (T4T) and the Rotary Club of Makindye West. The house was an appeal response when Kyasira Home of Hope premises were flooded when Lake Victoria shores burst banks in 2020 causing the displacement and relocation of the Home.
The house will provide shelter for young children who join the Home before they transit to the general dormitories. Started in 1995 by Rev. Sister Liz Alarie, a Canadian Missionary and Cardinal Emmanuel Wamala to shelter the children affected by the LRA insurgency in Northern Uganda, the Home now has 69 (39 girls, 30 boys) of ages 4-17 years since the children are re-integrated when they become young adults.
This prototype involved use of Interlocking Stabilized Soil Block (ISSB) technology as an alternative to the traditional house construction. By eliminating the use of burnt bricks, and plastering; the technology reduces the cost of building a similar house by up to 35% without compromising the strength and stability of the structure. The technology is part of the innovative cost efficient and climate-smart interventions that HFHU and partners are rolling out to increase housing accessibility and affordability in the country.